Dear Frank: you will always be on my shelf!
In a weird conjunction of strange, the news of Frank Frazetta's death came out today, along with my posting over at Wizards' author's
roundtable
about my favorite underappreciated Edgar Rice Burroughs novel.
I discovered Edgar in my aunt's basement, a row of Tarzan paperbacks lined up on a windowsill. Over my formative years, every time I ventured into a used bookstore or junk shop, I'd go looking for more of these adventures. Invariably, I'd find these wonderful tattered and torn paperbacks with these amazing covers. Eventually I figured out that the artist who just "got it" in so many ways was Frank Frazetta.
My pick for underappreciated ERB:
The Mucker
, a big sprawling serial adventure that makes any Jerry Bruckheimer blockbuster seem like a restrained Chekhovian drama. After all the Mucker, as our hero is known, starts out as drunken gangster, prize fighting in Chicago, ends up Shanghaied for parts unknown, sunk by pirates, stranded on a tropical island, fights for survival in the jungle, and, naturally, is smitten with a spunky heiress. And that's just part of the plot. Go a little further and read the
Return of the Mucker
and you'll get a Mexican revolution tossed on top of all the rest.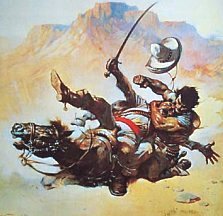 Why did I fall in love with this crazy story? Well, there's Frazetta's cover for the first book, that guy fighting off deranged samurai (oh, right, forgot to tell you about those) with his gal slung over his shoulder. Then there's his cover for the second book, with the Mucker taking down a horse as well as a bandit with one punch.
And that's just two of Frazetta's amazing ERB covers. His Dejah Thoris will always be the most incomparable of all, his Tarzan the wildest in the jungle, and all the rest of his images the pictures that my mind shows me first when reading Burroughs.
Tonight I'm brewing up a cup of tea and retreating to my big comfy chair. By me will be a stack of Ace paperbacks, all with Frazetta's signature covers. Thanks for all the dreams, Frank!